Leonard D. Levine
In Memoriam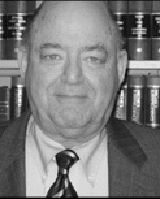 Leonard was born in Norfolk, Virginia, on December 19, 1936, and passed on July 17, 2021.
While serving his community of Virginia, he specialized in plaintiffs' personal injury litigation, civil litigation, including divorce and domestic relations, debtors' bankruptcy (all chapters), and commercial and residential real estate.
He will be remembered with appreciation and respect.
Education
B.A. University of Virginia, 1958

LLB, University of Virginia, 1962

Lieutenant Commander, JAG Corp, USN Leonard D. Levine-Bankruptcy Attorneys in Virginia Beach, VA
Professional Memberships
American Bar Association

Association of Trial Lawyers of America

Virginia State Bar

Virginia Trial Lawyer Association

Norfolk Portsmouth Bar Association

Virginia Beach Bar Association

Tidewater Bankruptcy Bar Association

Lecturer, Virginia Cle-Medical Malpractice 1986, 1993

Certified Real Estate Closing Attorney (CRESPA) Admitted to Practice in All Virginia, Federal, State, & Local Courts
Counsel of Record in Published Cases
Warehouse Distributors V. Prudential Storage & Van Lines (Real Estate Lease), 208 Va. 784, 161 S.E. 2d, 86 (1968) Va. S. Ct.

John Doe V. Douglas Scott (Personal Injury), 221 Va. 997 (1981) Va. S. Ct

Masonite Corporation V. Norfolk & Western Railway (Cargo Loss), 601 F2d 724, CCA4, 1979, CCA 4th Circuit

Alexander Smith, Trustee V. Andrew Fekete, Et Al. (Bankruptcy, CCA 4th Circuit)

Allison Jordan V. Tom Smith, Trustee (Bankruptcy, CCA 4th Circuit) 200